Friday April 16 2021
 A spring snowstorm is hitting New England today. Some of the mountains will receive over 6 inches off snow with flakes flying near Boston. 
But there have been snow showers even closer in central Pennsylvania and western Maryland.  This is all wrapping around a strong Low Pressure, and some showers could reach us today.  The cold pattern will remain with us into the weekend.
Morning Surface Weather
Low Pressure off of the New England coast is responsible for the snow showers being pulled off of the Great Lakes.  It is possible some showers reach northeastern Maryland with rain, but some mixed flakes this morning. 
Doppler Radar
The more impressive snow band has been into north central Pennsylvania. The upper level winds are pulling this southward and it may reach northeast Maryland (Harford/Cecil) and northern Delaware this morning with showers (rain/snow mix).
Western Maryland Snow Cams
There have been snow showers in Garrett County, but the Live cam shows it did not amount to much over McHenry and Wisp. 
This webcam is positioned at The Greene Turtle Deep Creek Lake and shows Wisp Resort, including a zoomed-in view of Squirrel Cage, The Face, the terrain park, Boulder, the mountain coaster, the tubing park and a shot of McHenry Cove at Deep Creek Lake!
Snow Cam 2
This webcam is positioned at the very popular Lakeside Creamery and Copper Kettle Popcorn Factory.
Views of Deep Creek Lake, Deep Creek Lake State Park, the Glendale Road Bridge, and more!
Morning Temperatures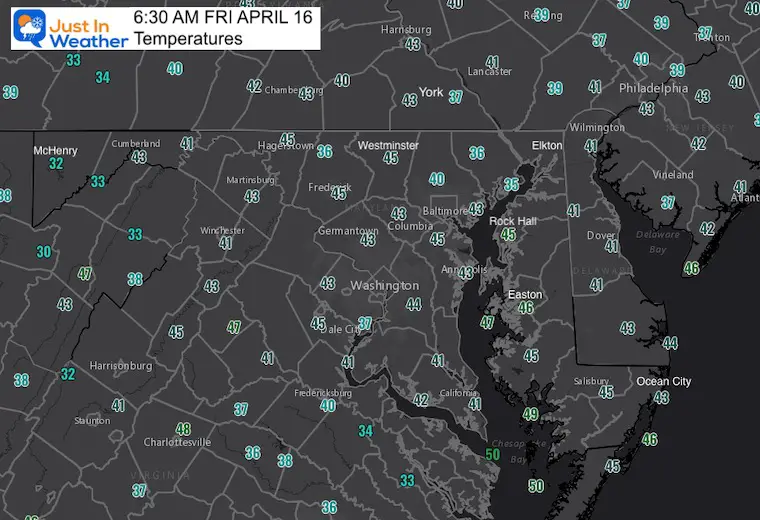 Weather Almanac: Climate Data For Baltimore
Normal Low in Baltimore: 43ºF; Record 30ºF in 1962
Normal High in Baltimore: 65ºF, Record 90ºF 2012
Temperatures Afternoon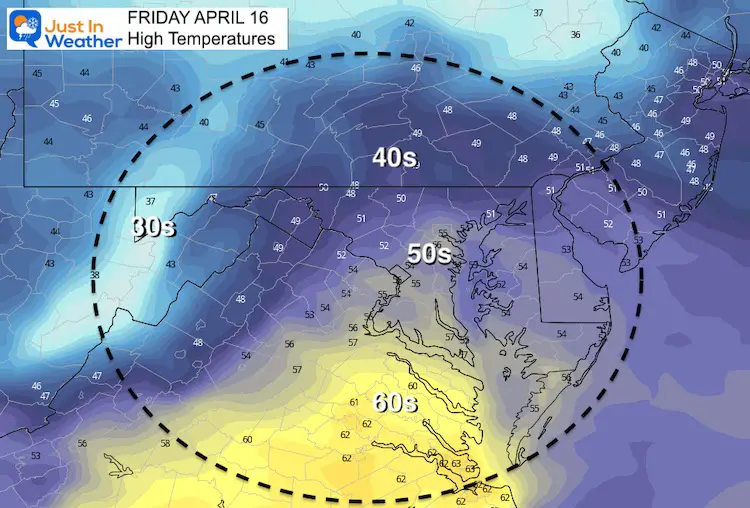 Forecast Snapshot
We will be stuck in a chilly pattern, but the wind and more clouds will lower the risk of frost (this time).  

Saturday Temperatures 
More clouds and brisk winds should keep temps from getting into frost territory in the morning. The afternoon will be a struggle to reach to 50s in northern zones.  
If you are going to the boat show, it will chilly!
Morning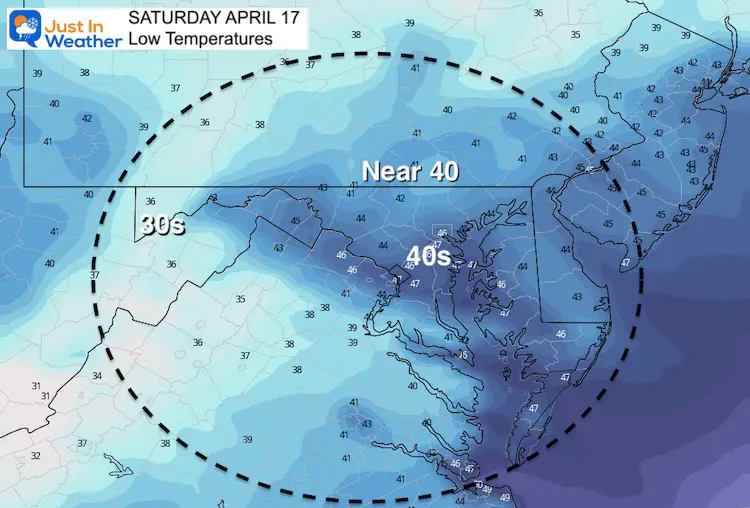 Afternoon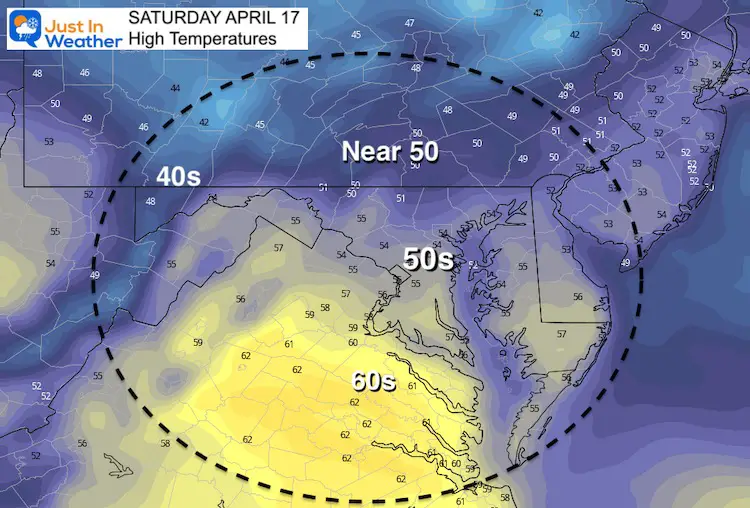 Storm Animation: Friday Through Wednesday
We remain in a chilly pattern, but a brief warm up will happen before the next cool down.  
Next week we will bring in more chilly rain, with snow still showing up in northern Pennsylvania to New York.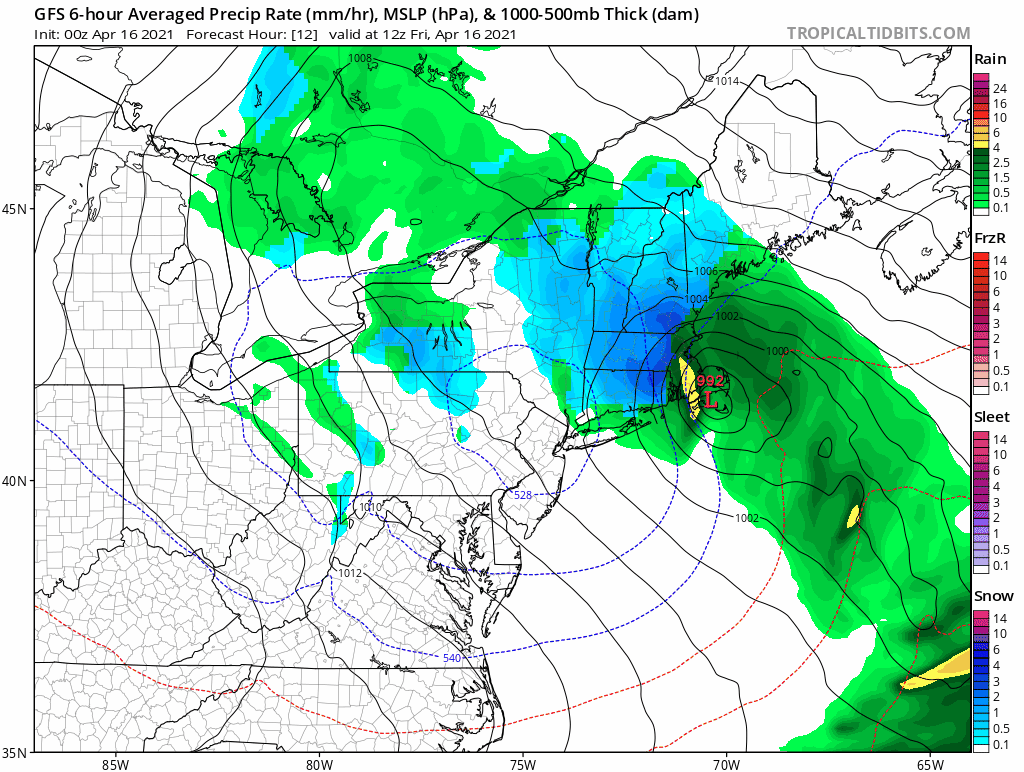 Temperature Outlook
This forecast is set for Baltimore at BWI. I've highlighted the coolest mornings where inland areas are likely to have frost.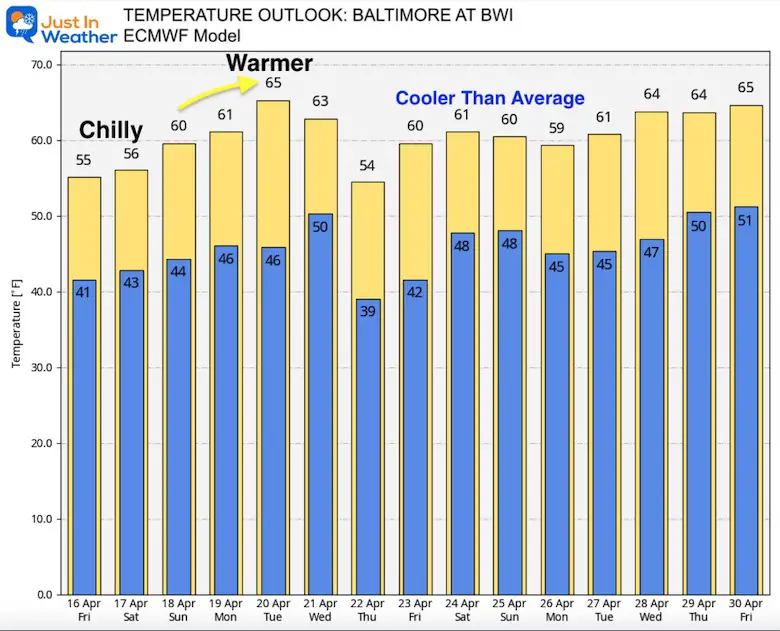 Explore More: 
Temperature Trending Cooler Than Average For Next Two Weeks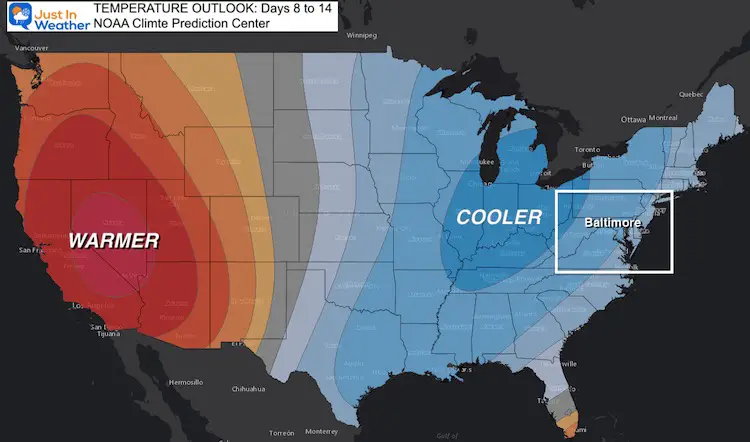 Sunshine Sate Of Mind
I am done with the cold and snow (for the season). I am embracing my wife's mantra of Sunshine State of Mind.
This was designed by Shannon Berk and we will be wearing it through spring and to the beach.
Double Benefit: Proceeds will be split between our nonprofit Just In Power Kids and the development of my new weather website. That has been scheduled to be ready to launch in May.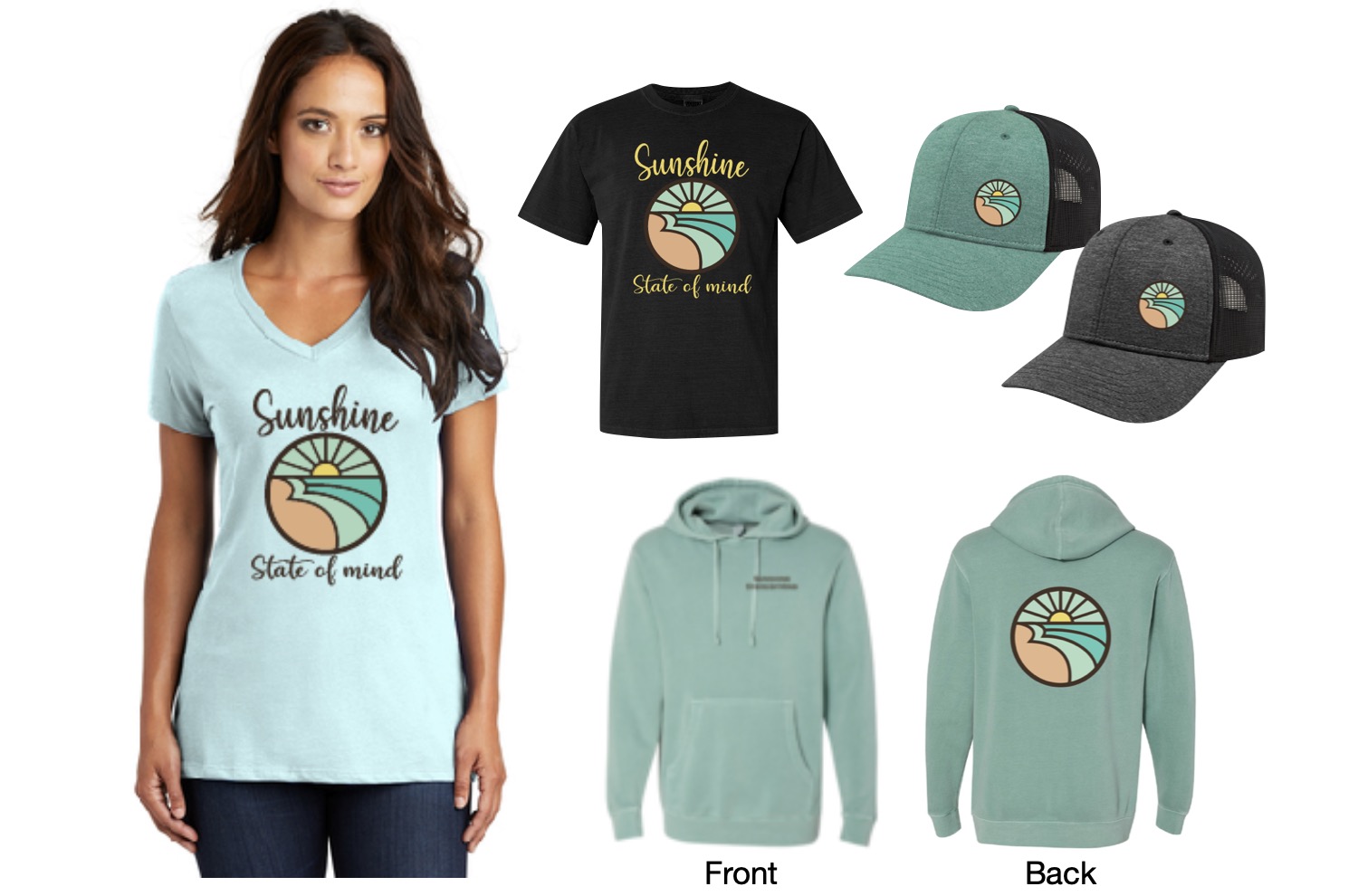 YOUR INTERACTIVE WEATHER PAGES
14 Local Maryland Pages (and York PA)
We have made a page for Maryland Weather which gives you the current conditions for 14 present area locations.
Local Hourly Forecasts and Local Radar
Central Maryland
Delmarva
Pennsylvania

Please share your thoughts, best weather pics/video, or just keep in touch via social media
Maryland Smoothie King Is Now Supporting Our Nonprofit Just In Power Kids