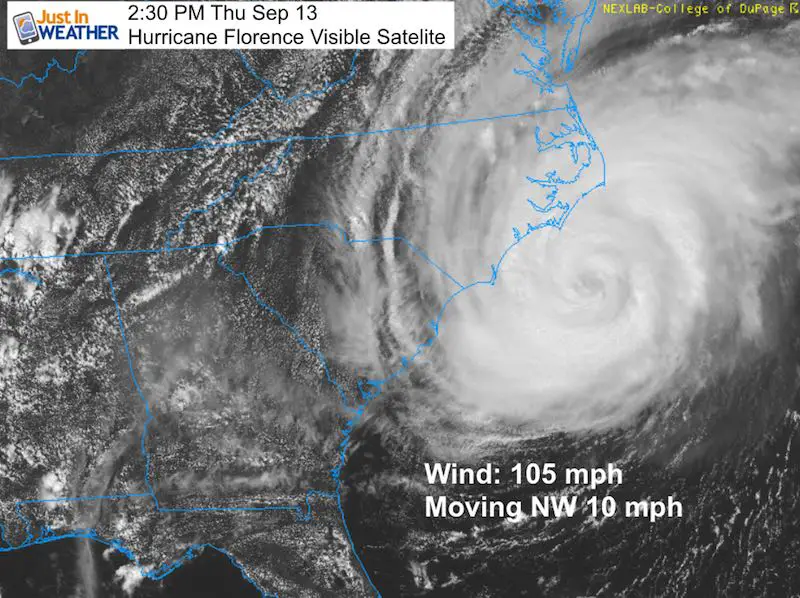 3 PM Thursday September 13 2018
Hurricane Florence has winds of 105 mph, which may be deceiving. There is a lot of work to be done with intensity forecasting as two days ago this was 140 mph with potential to reach Cat 5. But I think there also needs to be a lot a work does with the media explanation. I have many sources on my phone like you do and some have sent alerts with headlines that are misleading. Since my web site is Maryland centric I have to explain the rainfall locally without hype. Please take a moment to read the update and the maps.  The latest satellite and radar loops along with updated rain models and closer look are all below.
Hurricane Florence Category 2 that can behave much bigger for a few reasons:
Slow Crawl Or Stall:  This will pound some coastal areas for a few days with onshore flow over 3 to 6 tide cycles.
Rainfall: A weakening tropical system can be like a slow leak in a balloon. With the slow movement, that moisture in the clouds will be draining out over the same areas for a few days.
Wave Memory: Since this was once a strong Category 4, it has momentum of a once strong system that can take a few days for the energy to disperse.
Larger Size: As the winds have weakened, the size across has expanded. Hurricane Force Winds reach 80 miles from the center. Tropical Storm Force winds reach up to 200 miles from the center. That is up to 400 miles of coastal areas that can have sustained winds over 39 mph.
Radar Loop
Outer Rain Bands and squalls have reached coastal areas of North Carolina. The northern edge has reach Virginia Beach/Norfolk. Some showers are trying to develop north of this as east winds cross the Chesapeake Bay. 
Sharp cut off on the south side. Winds feeding in from the land on the south of the storm cut the rain bands off sharply.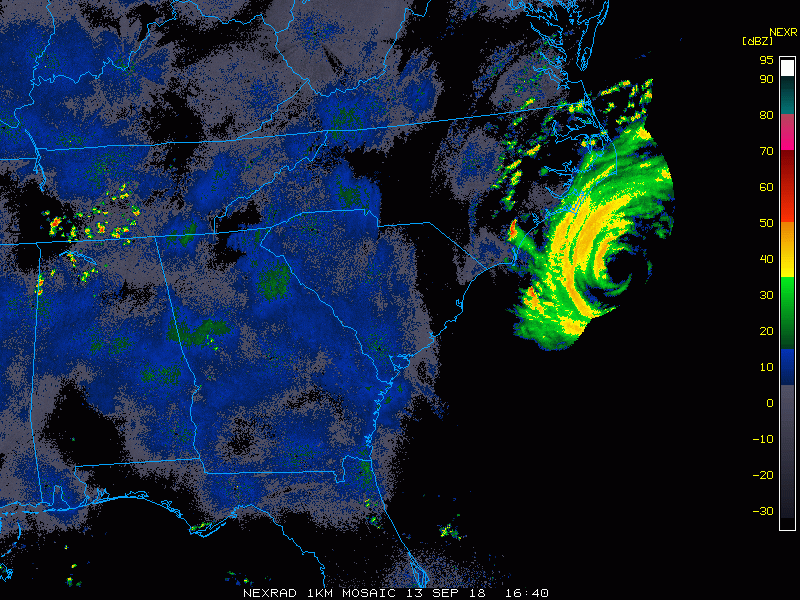 Satellite Loop
The shift to the west is seen on satellite. The National Hurricane Center is still reporting movement to the NW, but that has slowed to 10 mph. I expect the direction to be reflected soon.
SUMMARY OF 200 PM EDT…1800 UTC…INFORMATION
LOCATION…33.6N 76.0W ABOUT 110 MI…180 KM ESE OF WILMINGTON NORTH CAROLINA
ABOUT 165 MI…270 KM E OF MYRTLE BEACH SOUTH CAROLINA
MAXIMUM SUSTAINED WINDS…105 MPH…165 KM/H
PRESENT MOVEMENT…NW OR 315 DEGREES AT 10 MPH…17 KM/H
MINIMUM CENTRAL PRESSURE…955 MB…28.20 INCHES
Forecast Track And Local Impact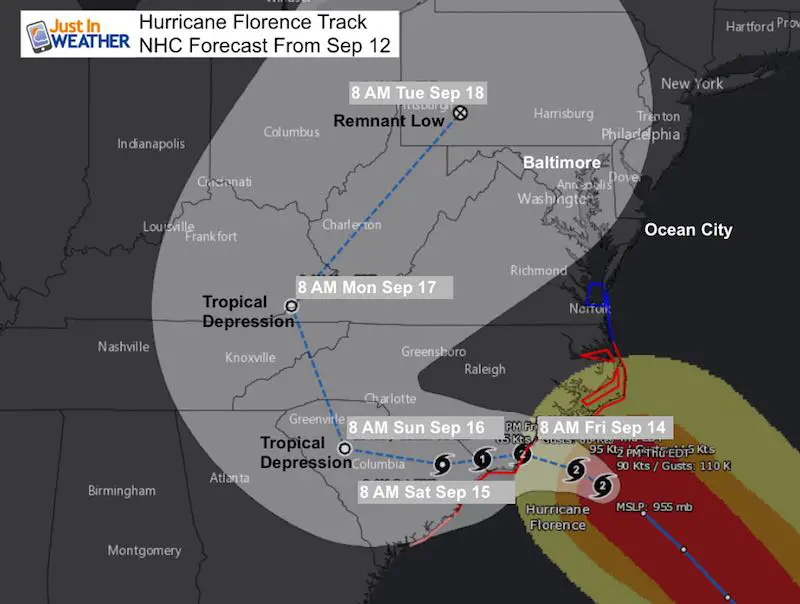 The shift to the west and crawl or stall shows Florence taking two days to move 100 miles inland.
This National Hurricane Center forecast map does make a turn to the north and then curving northeast. The wide view map at the bottom of this post is what can look deceiving. I made this image to highlight the Category Hurricane, then Tropical Storm Saturday… Then Tropical Depression when inland. By the time this gets close to Pittsburg on Tuesday it will likely just be a remnant Low.
Rain Increase?
That has been the headline on many news outlets. This is just as the slow down and NOAA forecast reflects what the European Model I showed you a few days ago presented. The bulk of the rain will stay to our south.  Any increase in rainfall locally would include the push of the remnant Low on Tuesday. By that time it will look more like a cold front.
Rain Total Model Forecast
NAM Model Through Sunday Evening 
Ocean City may see 2″ of rain but stronger squalls could change that.  The peak squall should be there Friday morning
The top zone at landfall and north of the eye wall. Inland NC could see 6 to 10 inches of rain. In the high mountains that could lead to big flooding and mudslides.
Note the sharp cutoff on the north side. That is where the main influence of the core storm will be. To the north of the VA border the rain will be determined by outer bands and squalls.
Much of Maryland and PA 2ill have nicer weather on Sunday, but winds along the coast could keep sea spray around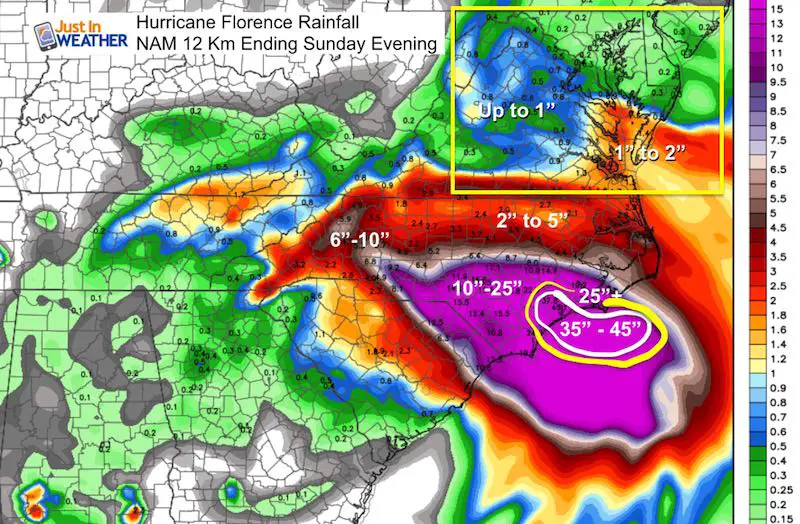 GFS Model Animation Sunday Through Tuesday
This takes the Low well to our north early next week. The rain we could see would be in the form of showers that may be similar to a strong cold front by then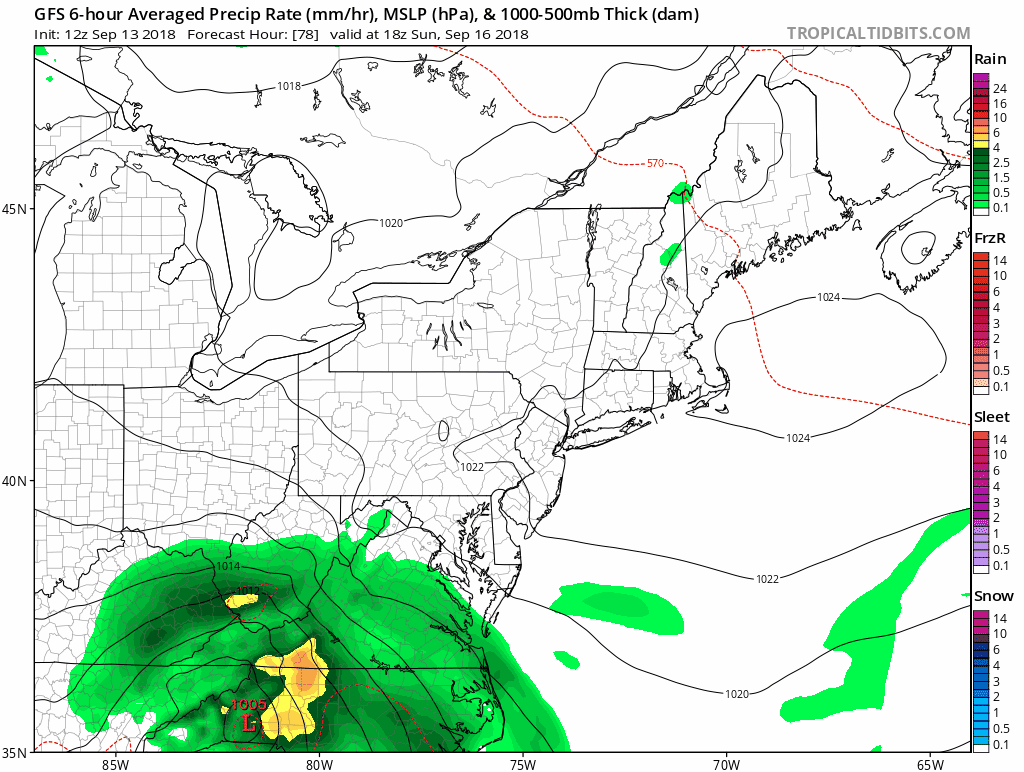 GFS Model Rain Through Next Tuesday
This model brings the 1 inch rain into southern Maryland and near Annapolis. This coincides with the forecast map I showed Wednesday and will repost below…
The influence of the remnant Low on Monday/Tuesday only brings pockets of 1 inch or more.
Prior NOAA Rain Forecast Map (From Yesterday)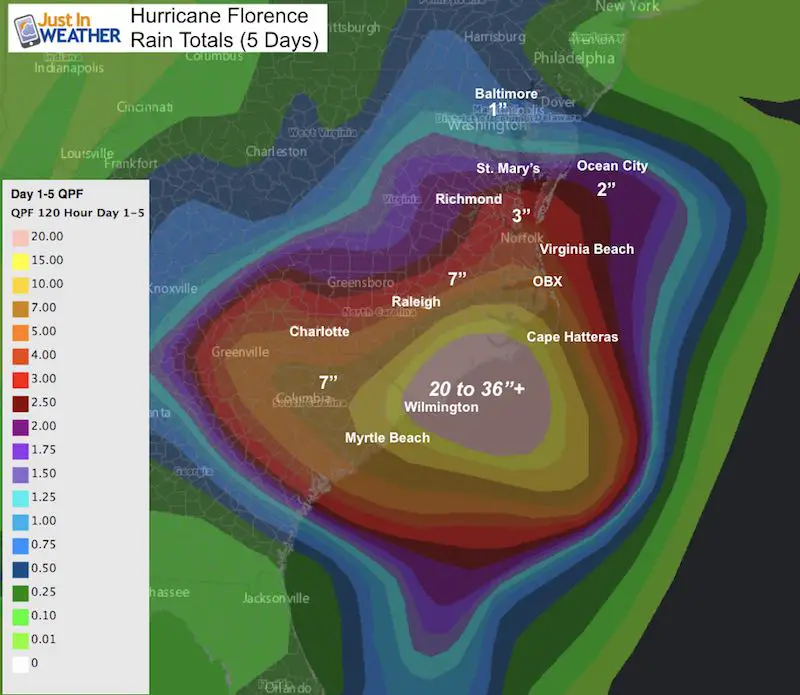 NOAA Rain Map That Caused A Stir Today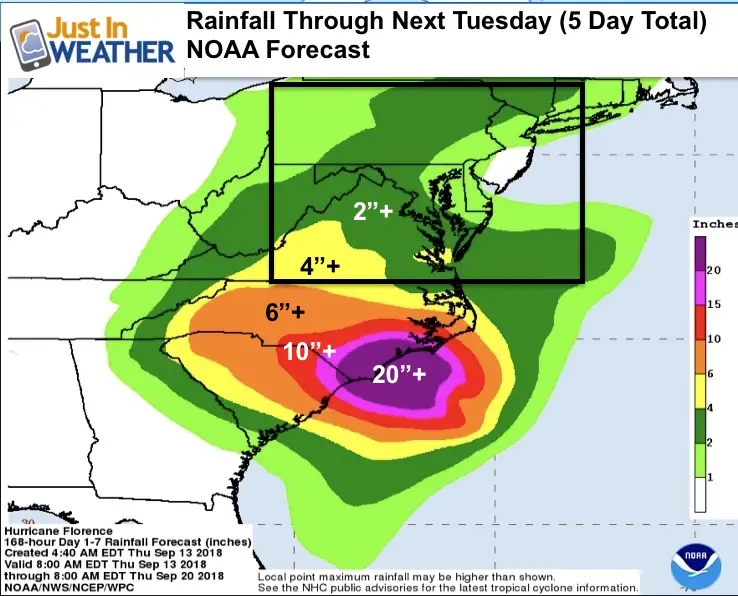 Storm Surge Warnings- VA/NC Border and South



A Storm Surge Warning is in effect for...
* South Santee River South Carolina to Duck North Carolina
* Albemarle and Pamlico Sounds, including the Neuse and Pamlico
Rivers

A Storm Surge Watch is in effect for...
* Edisto Beach South Carolina to South Santee River South Carolina
* North of Duck North Carolina to the North Carolina/Virginia border





National Hurricane Center Public Map




Keep In Touch Every Day
Click here to sign up for email alerts…. Just in case you don't get the post on your social media feed
Please share your thoughts, best weather pics/video, or just keep in touch via social media
Love Maryland Shirt Designed By Jaiden
This shirt was designed by my 'bonus' daughter Jaiden. All proceeds will go to Just In Power Kids and free holistic therapy for kids in and post cancer treatment.
Show your love for Maryland and make this 14 year old artist extra proud
---
Now Scheduling School Assemblies 
Storm Smart – Severe Weather (September, October; March through May)
FITF – Snow and ice (November through March)
Programs for K through Middle School
Choose flat fee or FREE along with a spirit wear shirt fundraiser that earns your school money.
---
Partner With Us. My wife Shannon and I started this non profit Just In Power Kids. We are building a network of Integrated Wellness Practitioners plus funds for kids in and post cancer treatment to get free sessions.
Get the award winning Kid Weather App I made with my oldest son and support our love for science, weather, and technology. Our 3 year anniversary of the release and our contribution to STEM education is this November. It has been downloaded in 60 countries, and works in both temperature scales. With your support we can expand on the fun introduction to science and real weather.